THE JACKSONVILLE RIVERFRONT
A Riverfront For All
The Jacksonville Riverfront is a connected network of planned and existing destination parks, public spaces and riverwalk trails along both banks of the St. Johns River in downtown Jacksonville.
The shared vision is for our downtown riverfront to become a fully accessible and unified year-round and everyday destination with world-class amenities, museums, dining options, along with regular activities, events and programming to appeal to a wide range of residents and visitors. In short, to become "everyone's neighborhood."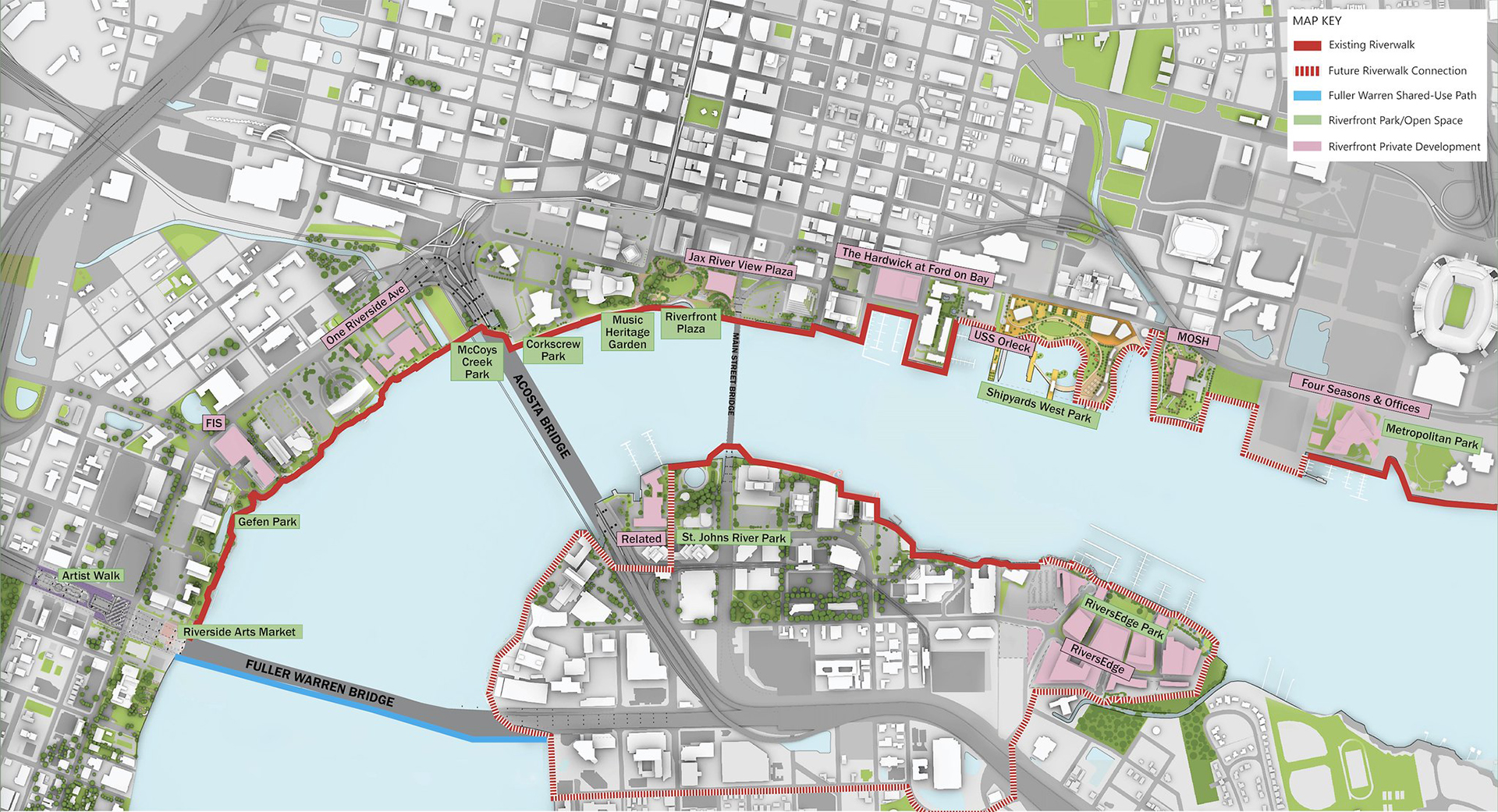 Source:  Downtown Investment Authority, Feb 2023
The City of Jacksonville has committed over $100 million in capital funding to design, renovate, construct, and connect new and existing destination riverfront parks, public marinas, and riverwalk extensions on both sides of the majestic St. Johns River.
Check out the updates from Riverfront 2025: A Look Ahead public meeting held in February 2023.
Private developments are also planned; development updates are available on the Build Up Downtown website.
History of the Riverfront
The Riverfront is an emerging linear network of planned destination parks, trails, and green spaces along both banks of the St. Johns River in downtown Jacksonville, Florida.
Jacksonville's riverfront has gone through a history of reinventions.  During its formative years of the early 1900s, the riverfront was substantially occupied by the shipping industry.  Later, during Jacksonville's era of urban renewal and the national transition to suburbia of the 1950s, 60s and 70s, downtown residents and retail slowly disappeared, and the city began constructing public buildings and surface parking lots along the riverfront.  Since the 1980s, the city began some revitalization efforts with the Southbank Riverwalk, the Jacksonville Landing (A Rouse Festival marketplace) a 24-acre Metropolitan Park (1982), the Riverwalk, the Times Union Center for the Performing Arts (1997), and the Hyatt (2001), the VyStar Veterans Arena and 121 Financial Ballpark (2003) and the Northbank Riverwalk (2005)
In 2017, Hurricane Irma flooded much of downtown and showed the vulnerability of our shoreline to more severe weather events. Following several demolitions of city-owned structures along the River, a tangible opportunity for contiguous and resilient public spaces along downtown's vast riverfront was presented for the first time in Jacksonville's history. Over the past eight years, significant investments, both public and private, have been made to revitalize downtown.
Based on the residential units built and under construction, downtown's population will surpass 10,000 residents in the coming years. Currently there are several billion dollars in development projects in the pipeline. This data and more can be found at www.downtownjacksonville.org/research/
In 2020, the grass roots coalition Riverfront Parks Now began advocating for an expanded network of parks and green spaces along the downtown riverfront. They based their advocacy on a review of peer cities who have successfully invested in public riverfront parks to complement private development and re-energize their downtown urban environments.
Beginning in 2021, the Jessie Ball duPont Fund convened a group of experts in urban planning and design to help Jaxsons dream about the potential for a vibrant, active downtown riverfront. Extensive community conversations and stakeholder workshops resulted in one key concept: Jaxsons want and deserve a "Riverfront for All." You can learn about this effort and the Activation Plan here: https://www.dupontfund.org/project/waterfront   The Jessie Ball duPont Fund intends to remain involved in the Riverfront Project by providing consultation, expertise, and strategically harnessing its relationships with other nonprofit, private, and governmental entities.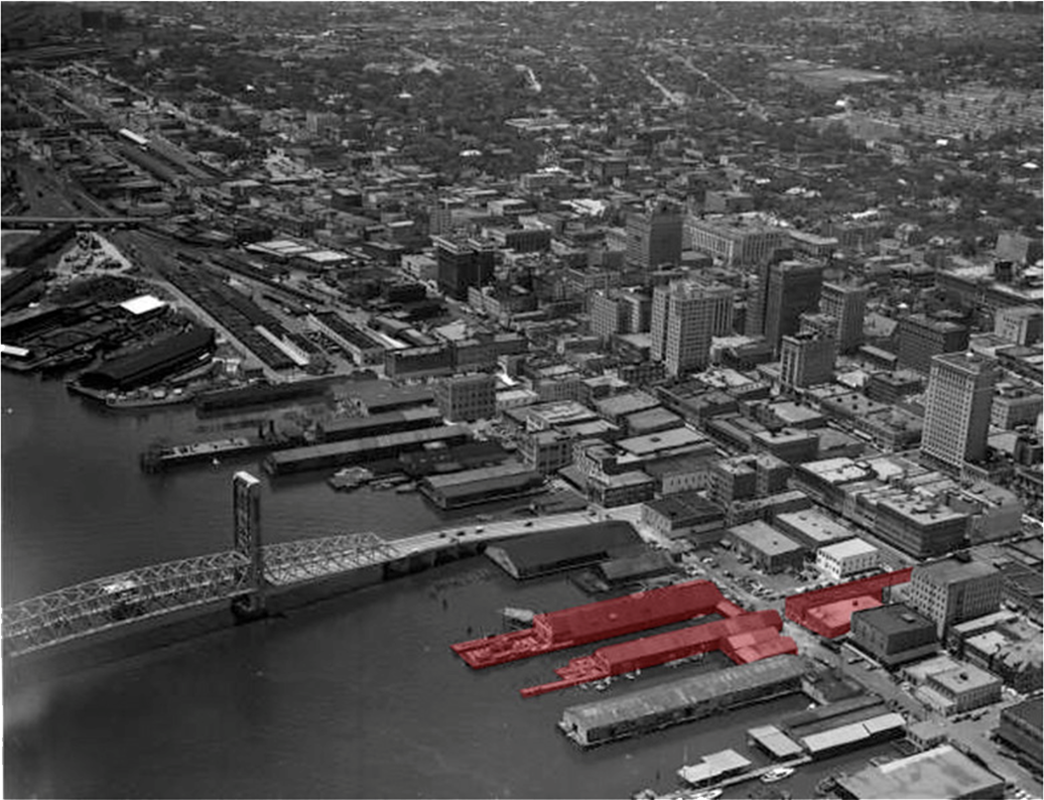 Aerial of downtown and the market. State Archives of Florida, Florida Memory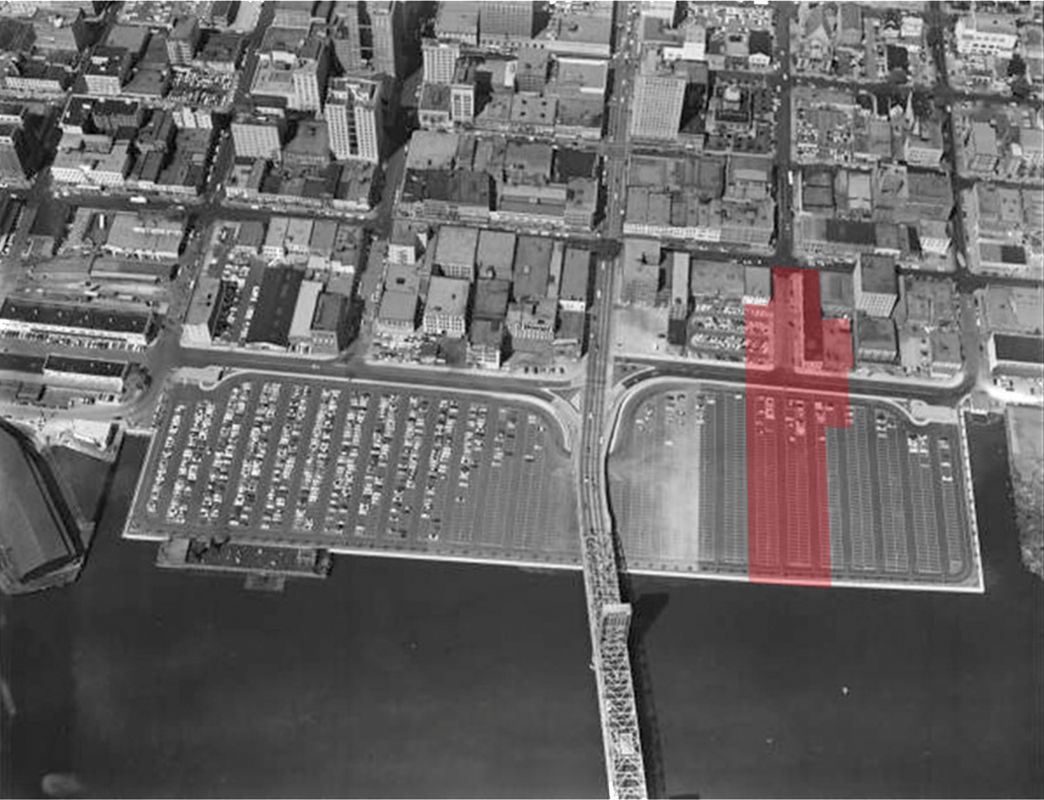 Aerial of downtown photographed on March 23, 1956. The Ocean Street market is no more. Replaced by the city's first riverfront parking lot as a part of one of downtown's first revitalization efforts. State Archives Florida, Florida Memory.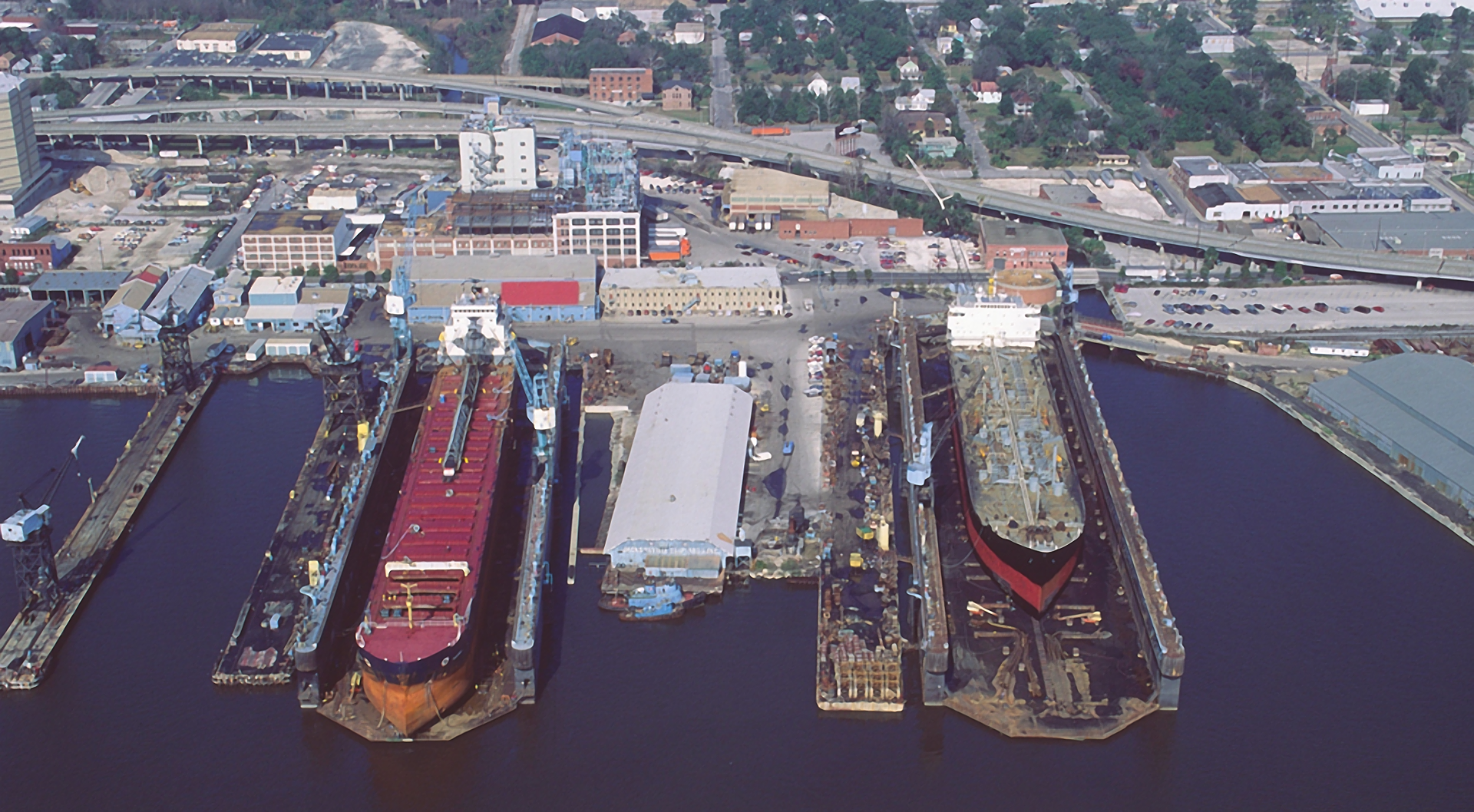 Jacksonville Shipyards, Inc. Bay Street, Northbank, Jacksonville Florida. Closed in 1992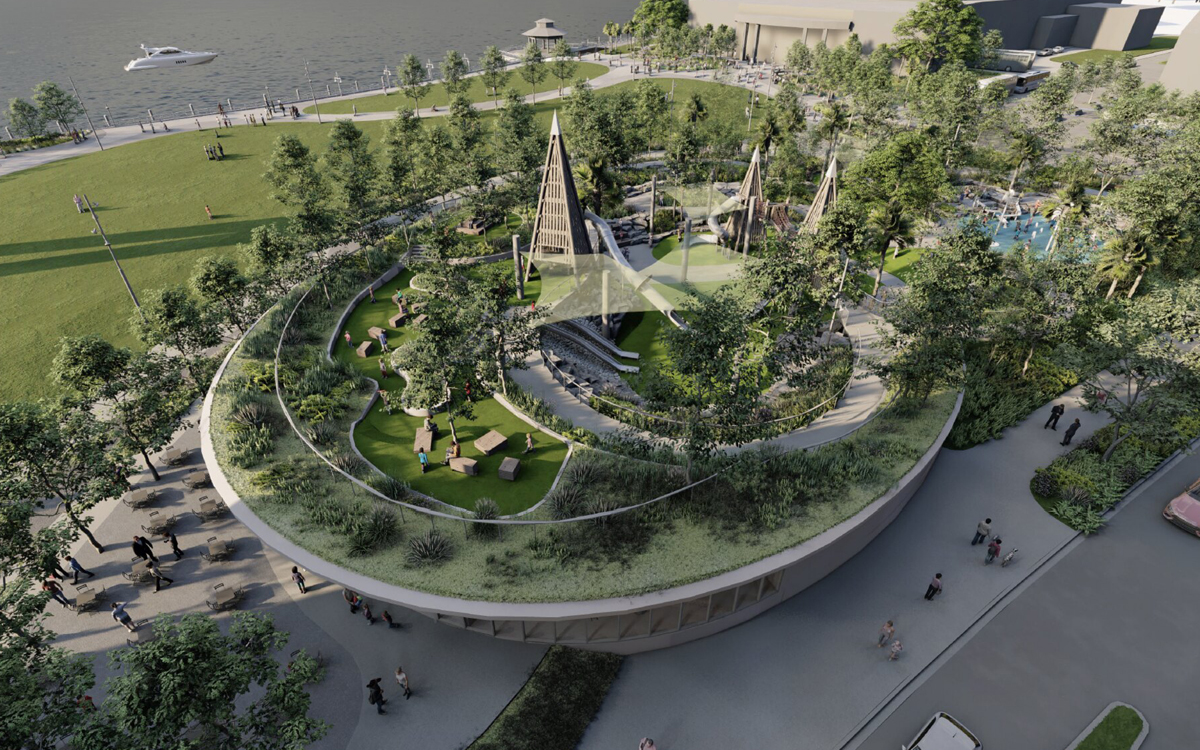 Riverfront Plaza Phase I: Playground
Credit:  Perkins & Will, Feb 2023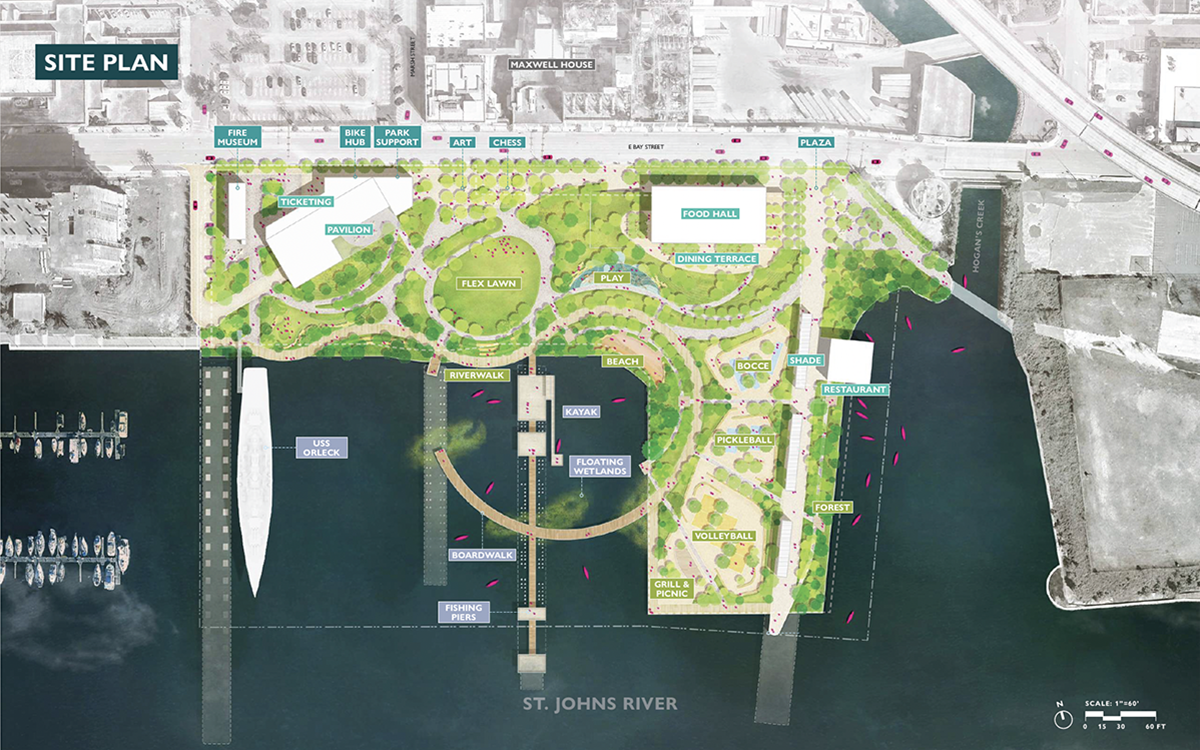 Shipyards West Park – conceptual
Credit: Agency Landscape + Planning, May 2023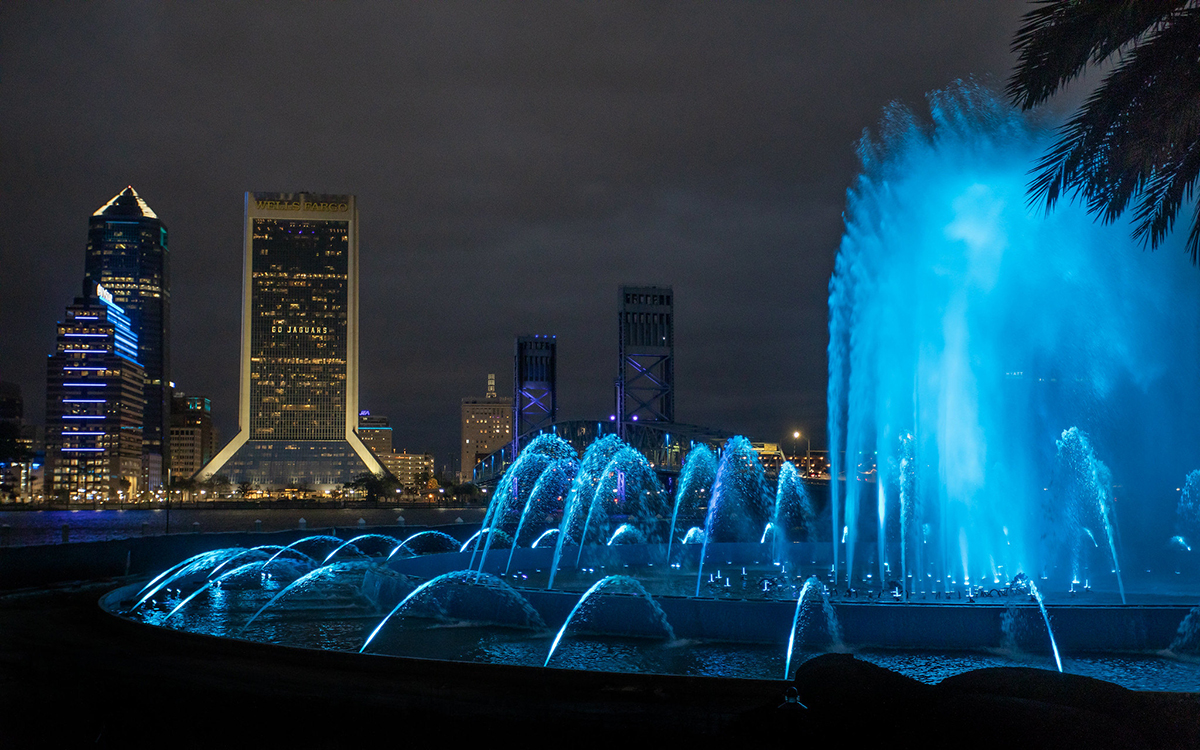 Source: City of Jacksonville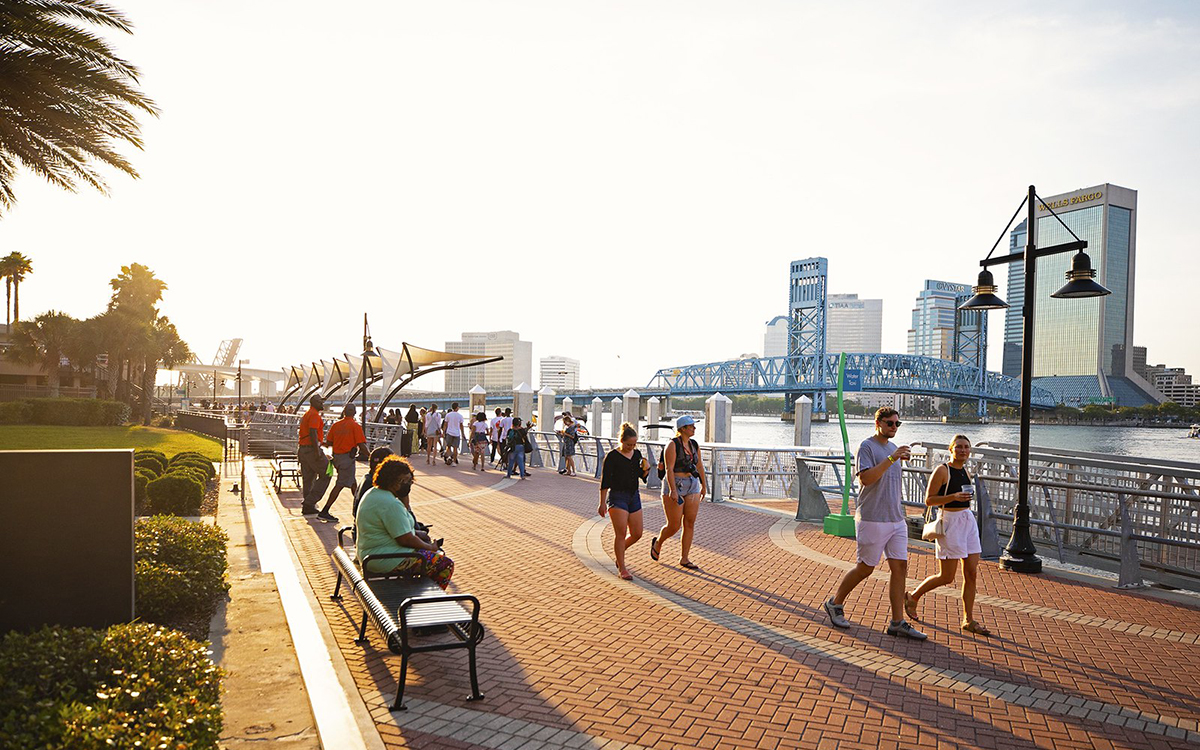 Source: City of Jacksonville